Crucifixion
---
By Matthew Ficarelli
About the sixth hour, dark clouds rolled in to the town of Jerusalem, and the skies turned as gray as smoke. With his last breath Jesus said to the Father "Into thy hands I commend my Spirit" and he gave up his ghost to the Lord. Much is said about this terrible day, but what is known about the actual act of crucifixion? What happens to the body when it is hung by nails on a two pieces of timber for hours at a time? If one is to say that he or she is a Christian, they must truly understand what Jesus went through for all of us.
The Messiah was put on earth for one single purpose, to be the ultimate sacrifice for the payment of sin for all man. He was to be brutally beaten and then die a painful death. The prophet Isaiah predicted that he was to beaten to the point that he wasn't going to be recognizable as a man.
Isaiah 52:14. As many were astonied at thee; his visage was so marred more than any man, and his form more than the sons of men:
Isaiah 53:5. But he was wounded for our transgressions, he was bruised for our iniquities: the chastisement of our peace was upon him; and with his stripes we are healed.
Jesus knew what he had to do. He knew the pain and suffering he was about to receive, but he stood strong. Even before he was whipped and crucified, Jesus went through a beating by the hands of many.
Matthew 26:67. Then did they spit in his face, and buffeted him; and others smote him with the palms of their hands,
Mark 14:65. And some began to spit on him, and to cover his face, and to buffet him, and to say unto him, Prophesy: and the servants did strike him with the palms of their hands.
Luke 22:63. And the men that held Jesus mocked him, and smote him. 64. And when they had blindfolded him, they struck him on the face, and asked him, saying, Prophesy, who is it that smote thee? 65. And many other things blasphemously spake they against him.
John 18:22. And when he had thus spoken, one of the officers which stood by struck Jesus with the palm of his hand, saying, Answerest thou the high priest so?
As part of the punishment given by the Romans, Jesus was to be scourged before his crucifixion.
Matthew 27:26. Then released he Barabbas unto them: and when he had scourged Jesus, he delivered him to be crucified.
Mark 15:15. And so Pilate, willing to content the people, released Barabbas unto them, and delivered Jesus, when he had scourged him, to be crucified.
John 19:1. Then Pilate therefore took Jesus, and scourged him.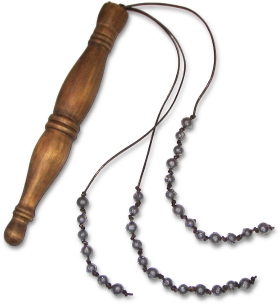 Scourging was not a pretty picture. First off, it was a public displayed torture session. The victim was stripped and tied in a bending position to a pillar. The whip used wasn't an ordinary single leather whip, but a multi-thronged whip called a flagrum. On the end of each throng was tied a piece of rock, bone, or metal used to rip open the flesh with every lashing. After the imense pain and suffering of the scourging, he was humiliated even futher by the guards.
Matthew 27:28. And they stripped him, and put on him a scarlet robe. 29. And when they had platted a crown of thorns, they put it upon his head, and a reed in his right hand: and they bowed the knee before him, and mocked him, saying, Hail, King of the Jews!
Mark 15:17. And they clothed him with purple, and platted a crown of thorns, and put it about his head, 18. And began to salute him, Hail, King of the Jews!
John 19:2. And the soldiers platted a crown of thorns, and put it on his head, and they put on him a purple robe, 3. And said, Hail, King of the Jews! and they smote him with their hands.
Even after they humilaited him, they put a crown of thorns on his head. The thorn bushes indiginious to that area at the time produced thorns ranging from a inch to an inch and a half. When the crown was put on his head, they guards took a stick and hit him in the head to make sure the thorns dug in.
Matthew 27:30. And they spit upon him, and took the reed, and smote him on the head.
Mark 15:19. And they smote him on the head with a reed, and did spit upon him, and bowing their knees worshipped him.
Another part of the process was the victim was forced to carry a part of the cross to the site. Jesus' body was in such horrible pain and shock, that after the beating he didn't have the strength to carry his own cross.
Matthew 27:32. And as they came out, they found a man of Cyrene, Simon by name: him they compelled to bear his cross.
Luke 23:26. And as they led him away, they laid hold upon one Simon, a Cyrenian, coming out of the country, and on him they laid the cross, that he might bear it after Jesus.
To add to his humiliation, while Jesus was on the cross, he was stripped of his clothes. The guards actually gambled for the only possessions Jesus had.
Luke 23:34. Then said Jesus, Father, forgive them; for they know not what they do. And they parted his raiment, and cast lots.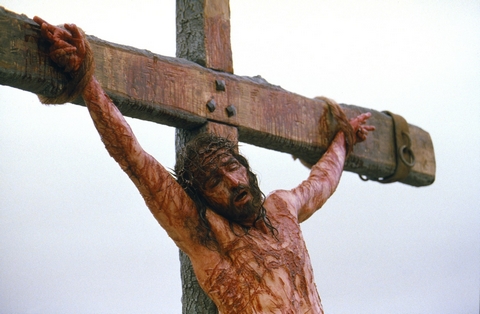 The method of crucifixion is one of, if not the most horrible form of punishment ever conceived of by man. It is not known exactly how Jesus was attached to the cross. If the nails were driven through his hands, then his arms had to be tied to the cross. The weight of his body would cause the nails to slide right through the bones and flesh in his hands. If he wasn't tied then he had to be nailed through his wrist were they could be supported. The actual cause of death was not loss of blood, but suffocation. The weight of the body put him in a very awkward position to breathe. Every time Jesus had to take a breath, he had to lift his whole body up. When he did this, his freshly scourged back would slide up and down the cross. Crucifixion wouldn't kill a man in a few hours, it would last several days. Now Jesus was only on the cross for six hours because he and only he had the power to give up his life.
John 10:17. Therefore doth my Father love me, because I lay down my life, that I might take it again. 18. No man taketh it from me, but I lay it down of myself. I have power to lay it down, and I have power to take it again. This commandment have I received of my Father.
I hope this gives you a newfound understanding for what Jesus went through for us. He was the ultimate sacrifice for all of humanity. He was humiliated, tortured, disgraced, and nailed to a cross for six hours. All he wants us to do is follow his simple teachings and remember what he went through. I know I will never look at the cross the same again.
---
All Scripture Taken Form King James Version