Faith vs. Relgion
---
By Matthew Ficarelli
What is the difference between faith and religion? So much is said about each subject, but yet, do we know if they are the same thing or are they completely different in the eyes of God?
Religion may be a word that means so much to one person, but it may mean the complete opposite to another. But there is one big problem with religion that separates it from faith. Because of the corruption and greed of man, it has ruined what God has set out to accomplish. The desire to have power and to be in control has led millions astray. The need for a hierarchy in the "church" puts control into the hands of so few. This then leads to the word of truth being hidden and the word of man being heard. This is not what God wants for us. The word of God is meant to relate to all walks of life in every generation that has ever existed. Because of religion, church attendance is at an all time low. The traditions of man don't apply to life today. People then are looking for alternate methods of belief. God hasn't forgotten about us. He has given us the ultimate guidebook, the Bible. There shouldn't be any need to follow any other doctrine. The same problem existed 2,000 years ago when Jesus walked the earth. He knew what man has done to God's word.
Matthew 15:1. Then came to Jesus scribes and Pharisees, which were of Jerusalem, saying, 2. Why do thy disciples transgress the tradition of the elders? for they wash not their hands when they eat bread. 3. But he answered and said unto them, Why do ye also transgress the commandment of God by your tradition? 4. For God commanded, saying, Honour thy father and mother: and, He that curseth father or mother, let him die the death. 5. But ye say, Whosoever shall say to his father or his mother, It is a gift, by whatsoever thou mightest be profited by me; 6. And honour not his father or his mother, he shall be free. Thus have ye made the commandment of God of none effect by your tradition. 7. Ye hypocrites, well did Esaias prophesy of you, saying, 8. This people draweth nigh unto me with their mouth, and honoureth me with their lips; but their heart is far from me. 9. But in vain they do worship me, teaching for doctrines the commandments of men.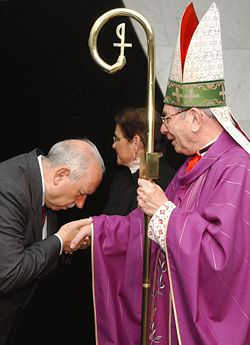 God knew what religion would do to man, he even told us in the book of Isaiah which Jesus quotes in verse eight. By giving control to a hand full of people, you are allowing them to preach whatever they want you to hear. We are blessed with the ability and freedom to have the Bible printed so everybody can read and enjoy it. But sadly there are so many people who still listen and follow orders by the "church" rather then look for the answers themselves. Do you know what the word "church" actually means? The Greek word for church is ekklesia, which means "called out ones." We are the Church of Christ! All who believe in him are the called out ones. It isn't a building, or a group of select men like most people think. We have the authority to decipher for ourselves what the Bible says. We don't have listen to a bunch of old guys dressed in robes telling us what to think. God has laid it all out in the Bible for each of us to read no matter where your from, or what generation you live in.
Unfortunately, there were few copies of the Old Testament 2,000 years ago so very few people had access to them. In fact, the only people allowed to see them, were the religious Pharisees and Sadducees. Because they were more into following their own traditions, then interpreting the scriptures for the coming of the Messiah, Jesus yelled at them because of their hardened hearts.
Matthew 16:1. The Pharisees also with the Sadducees came, and tempting desired him that he would shew them a sign from heaven. 2. He answered and said unto them, When it is evening, ye say, It will be fair weather: for the sky is red. 3. And in the morning, It will be foul weather to day: for the sky is red and lowring. O ye hypocrites, ye can discern the face of the sky; but can ye not discern the signs of the times? 4. A wicked and adulterous generation seeketh after a sign; and there shall no sign be given unto it, but the sign of the prophet Jonas. And he left them, and departed.
The Bible states many times not to turn to the doctrine of man.
Matthew 23:13. But woe unto you, scribes and Pharisees, hypocrites! for ye shut up the kingdom of heaven against men: for ye neither go in yourselves, neither suffer ye them that are entering to go in.
Ephesians 4:14. That we henceforth be no more children, tossed to and fro, and carried about with every wind of doctrine, by the sleight of men, and cunning craftiness, whereby they lie in wait to deceive; 15. But speaking the truth in love, may grow up into him in all things, which is the head, even Christ:
Colossians 2:18. Let no man beguile you of your reward in a voluntary humility and worshipping of angels, intruding into those things which he hath not seen, vainly puffed up by his fleshly mind, 19. And not holding the Head, from which all the body by joints and bands having nourishment ministered, and knit together, increaseth with the increase of God. 20. Wherefore if ye be dead with Christ from the rudiments of the world, why, as though living in the world, are ye subject to ordinances, 21. (Touch not; taste not; handle not; 22. Which all are to perish with the using;) after the commandments and doctrines of men?
Titus 1:14. Not giving heed to Jewish fables, and commandments of men, that turn from the truth.
We must not let ourselves be told what to think and do when God has given us all the answers right in the Bible. Being told what to do by man leads so many people away from God because they aren't properly informed.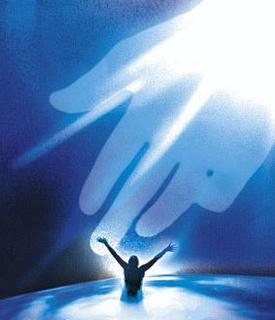 So what the does God want for us? He wants us to develop a relationship with him. God wants you to know what he's all about on a personal level. The biggest problem is that nobody knows how God communicates with us. God talks to us everyday whether you realize it or not. How many times have you heard stories of people saying that something told them to take a different route to work today and later on there was an accident that would have killed them? What do you think that "something" is? It can't be us, because all of us then would have the ability to predict the future. Have you ever heard that voice in the back of your head, which happens to tell you the right answers at the right times when you need it the most? Have you ever felt that feeling in your gut telling you to steer clear of something or someone because danger is right around the corner? He also talks to us indirectly by causing someone or something to appear in your life. There are no such things as coincidences. Everything happens for a reason. The simple fact that you are reading this might be God trying to communicate with you. Jesus knew this, because he has a personal relationship with God. He wants all of us to do the same.
Matthew 6:5. And when thou prayest, thou shalt not be as the hypocrites are: for they love to pray standing in the synagogues and in the corners of the streets, that they may be seen of men. Verily I say unto you, They have their reward. 6. But thou, when thou prayest, enter into thy closet, and when thou hast shut thy door, pray to thy Father which is in secret; and thy Father which seeth in secret shall reward thee openly.
Jesus says that you can talk to God anywhere. You don't have to be in a church to talk to him. Jesus says that when you pray to talk to him, don't just repeat a prayer over and over.
Matthew 6:7. But when ye pray, use not vain repetitions, as the heathen do: for they think that they shall be heard for their much speaking. 8. Be not ye therefore like unto them: for your Father knoweth what things ye have need of, before ye ask him.
What good is that going to do? If you wanted to talk to your neighbor you wouldn't go over to his house and repeat the phrase "How ya doing" 30 times would you?
In Matthew 6:9-13, Jesus gives us the famous Lords Prayer. This is just an example on how to pray. Many people will just repeat this over and over again thinking that this is what they must do to talk to God. But two verses before this; Jesus specifically says to "use not vain repetitions." I am by no means saying that it is wrong to remember this or repeat it, but you must realize that it isn't that way to communicate with God.
He doesn't want us to go to be obligated to go to "church" every week. He doesn't want us to sing the same hymns and mumble the same prayers week in and week out. How can you personally know God by doing this? You can't. You don't have to go to church every Sunday to fulfill some sort of requirement. Jesus wants us to just get together to spread the Word -
Matthew 18:20. For where two or three are gathered together in my name, there am I in the midst of them.
God has given us the greatest gift to know him, his Son. Jesus' sole purpose was to make known the Father to all so everybody can have a relationship with him.
John 1:18. No man hath seen God at any time; the only begotten Son, which is in the bosom of the Father, he hath declared him.
John 15:14. Ye are my friends, if ye do whatsoever I command you. 15. Henceforth I call you not servants; for the servant knoweth not what his lord doeth: but I have called you friends; for all things that I have heard of my Father I have made known unto you.
John 17:25. O righteous Father, the world hath not known thee: but I have known thee, and these have known that thou hast sent me. 26. And I have declared unto them thy name, and will declare it: that the love wherewith thou hast loved me may be in them, and I in them.
Since God can't be manifest in the flesh, he made Jesus in his image. He is a representation of everything that God is.
Colossians 1:15. Who is the image of the invisible God, the firstborn of every creature:
Jesus is the only way to God. All one must do is follow in Jesus' footsteps and keep his commandments.
Matthew 7:21. Not every one that saith unto me, Lord, Lord, shall enter into the kingdom of heaven; but he that doeth the will of my Father which is in heaven.
John 7:16. Jesus answered them, and said, My doctrine is not mine, but his that sent me. 17. If any man will do his will, he shall know of the doctrine, whether it be of God, or whether I speak of myself.
John 8:12. Then spake Jesus unto them, saying, I am the light of the world: he that followeth me shall not walk in darkness, but shall have the light of life.
John 14:5. Thomas saith unto him, Lord, we know not whither thou goest; and how can we know the way? 6. Jesus saith unto him, I am the way, the truth, and the life: no man cometh unto the Father, but by me.
John 14:21. He that hath my commandments, and keepeth them, he it is that loveth me: and he that loveth me shall be loved of my Father, and I will love him, and will manifest myself to him.
The problem that many people have is the thought "What can God do for me?" But you really should be thinking, "What can I do for God?" Let's say you're a parent and you have a son, which you give him a weekly allowance. You tell him to go and rake the leaves and mow the lawn. But he doesn't do any of it and comes in demanding for the money. When you tell him no, he goes away crying that you are a horrible parent and you give him nothing. Does this sound familiar? In order to be blessed by God, we must obey the rules. They are simple guidelines to follow to live a perfect life. This is all he asks us to do, is believe in him and his Son, and to follow his simple rules.
God wants us to develop faith in him. Faith in Greek is pistis, which means a trust or confidence. God wants us to put our trust in him so that he will lead us to salvation. God wants us all to be saved. He wants all of us to come to the knowledge of the truth trough his son Jesus Christ.
I Timothy 2:3. For this is good and acceptable in the sight of God our Saviour; 4. Who will have all men to be saved, and to come unto the knowledge of the truth.
To develop faith, we are given the ultimate tool, the Bible.
Romans 10:17. So then faith cometh by hearing, and hearing by the word of God.
II Timothy 3:15. And that from a child thou hast known the holy scriptures, which are able to make thee wise unto salvation through faith which is in Christ Jesus.
In order to develop faith, we must walk by it. We must live our lives by keeping the commandments that Jesus gave to us. We must put our faith in Jesus in order to reach the Father.
Romans 3:22. Even the righteousness of God which is by faith of Jesus Christ unto all and upon all them that believe: for there is no difference:
II Corinthians 5:7. For we walk by faith, not by sight:
Philippians 3:9. And be found in him, not having mine own righteousness, which is of the law, but that which is through the faith of Christ, the righteousness which is of God by faith:
Faith is what gives us strength to carry on through the journey of life. It gives us hope for a better tomorrow. It is the way to a personal relationship with God and his Son. Just remember that with faith, anything is possible -
Mark 11:22. And Jesus answering saith unto them, Have faith in God. 23. For verily I say unto you, That whosoever shall say unto this mountain, Be thou removed, and be thou cast into the sea; and shall not doubt in his heart, but shall believe that those things which he saith shall come to pass; he shall have whatsoever he saith.
---
References
John Schoenheit. Truthortradition.com
---
All Scripture Taken Form King James Version