Jesus Christ: The Man
---
By Matthew Ficarelli
It takes a lot to step back and look at your beliefs. It takes even more to question them. Can you really trust what you have heard since you were a kid? Can you actually believe what you have been taught is correct? Well we are going to be looking at one of the biggest problems to face Christianity today. The idea that Jesus Christ is God is one of the core beliefs of the religion, but is it actually true? Does it make sense according to what the Bible says?
In the beginning, God created the first man, Adam. From Adam he created Eve. He loved man so much that he didn't want to force them to do anything they didn't want to do, so he gave them freewill. But as we know, they screwed up. Now God is left with a problem, but he knows just how to fix it.
John 4:24. God is a Spirit: and they that worship him must worship him in spirit and truth.
He couldn't come because he is not a man.
Numbers 19:23. God is not a man, that he should lie; neither the son of man, that he should repent: hath he said, and shall he not do it? or hath he spoken, and shall he not make it good?
So, God had to create another Adam to fix the mistakes of the first one.
I Corinthians 15:45. And it is written, The first man Adam was made a living soul; the last Adam was made a quickening spirit.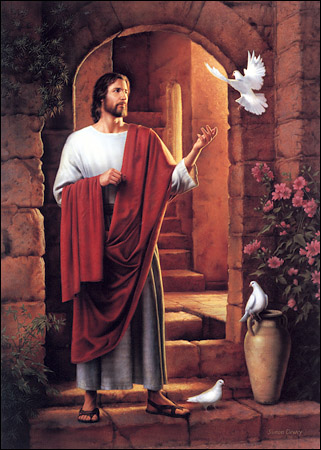 The word quickening in Greek means zoopoieo, which means "to give life, to make alive." So the last Adam, Jesus Christ, was created to save, or give life to all who believe him. Why is he called the last Adam? Jesus Christ and Adam are the only two human beings created directly by God. The first Adam screwed up, and the last Adam came to fix the mess. It is simple as that. Even though the last Adam came to save us, he was still a man.
Acts 2:22. Ye men of Israel, hear these words; Jesus of Nazareth, a man approved of God among you by miracles and wonders and signs, which God did by him in the midst of you, as ye yourselves also know:
I Timothy 2:5. For there is one God, and one mediator between God and men, the man Christ Jesus;
How can this be do you ask? Let's see what made Jesus a man while he was here on earth.
As you very well know, Jesus was born into the world.
Luke 1:35. And the angel answered and said unto her, The Holy Ghost shall come upon thee, and the power of the Highest shall overshadow thee: therefore also that holy thing which shall be born of thee shall be called the Son of God.
The word Born in Greek is gennao, which means to beget, to be born. It is taken from the same word as Genesis is. So here we have the beginning of Jesus. He was born in the flesh as a man.
Luke 2:52. And Jesus increased in wisdom and stature, and in favour with God and man.
At a very young age Jesus grew in wisdom more than any other man to walk the earth. By age twelve he was in the temple teaching the elders about ideas and concepts they never heard.
Luke 3:22. And the Holy Ghost descended in a bodily shape like a dove upon him, and a voice came from heaven, which said, Thou art my beloved Son; in thee I am well pleased. 23. And Jesus himself began to be about thirty years of age, being (as which supposed) the son of Joseph, which was the son of He-li.
Acts 10:38. How God anointed Jesus of Nazareth with the Holy Ghost and with power: who went about doing good, and healing all that were oppressed of the devil; for God was with him.
This is the most pivotal point in Jesus' life. This is when he manifests the Holy Spirit of God and begins his ministry. Because Jesus was a man and a Jew, he had to follow the rules of the Jews. A man must be at least thirty years of age before he can be a priest (Numbers 4:3). Before this point, there is no record of Jesus performing any miracles.
Jesus was the greatest man to walk the earth, but he was still a man. God made Jesus a little lower then the angels, but far above every man.
Hebrews 2:9. But we see Jesus, who was made a little lower than the angels for the suffering of death, crowned with glory and honour; that he by the grace of God should taste death for every man.
As we learned earlier, God is not a man. God is perfect in every way. He can't come down and make himself un-perfect, that wouldn't make any sense. God can neither be tempted of the flesh or from sin.
Matthew 5:48. Be ye therefore perfect, even as your Father which is in heaven is perfect.
James 1:13. Let no man say when he is tempted, I am tempted of God: for God cannot be tempted with evil, neither tempteth he any man:
Jesus, which is the image of God, was sent to earth. Jesus was God's representative of his love, thoughts, and feelings in the flesh. Everything God is was put in Jesus when he was created.
II Corinthians 4:4. In whom the god of this world hath blinded the minds of them which believe not, lest the light of the glorious gospel of Christ, who is the image of God, should shine unto them.
Colossians 1:15. Who is the image of the invisible God, the firstborn of every creature: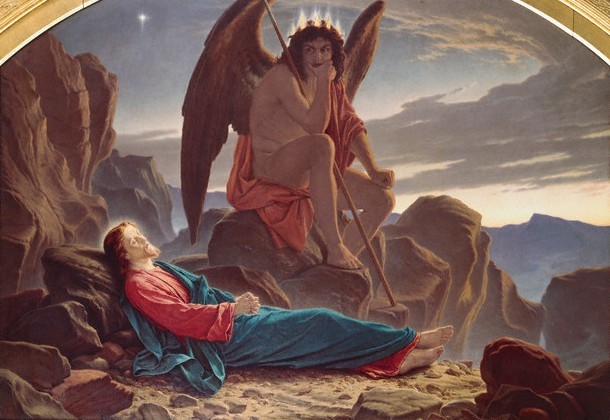 He was however still in the flesh, and was tempted just like us.
Matthew 4:1. Then was Jesus led up of the Spirit into the wilderness to be tempted of the devil.
Romans 8:3. For what the law could not do, in that it was weak through the flesh, God sending his own Son in the likeness of sinful flesh, and for sin, condemned sin in the flesh:
Hebrews 2:18. For in that he himself hath suffered being tempted, he is able to succour them that are tempted.
Hebrew 4:15. For we have not an high priest which cannot be touched with the feeling of our infirmities; but was in all points tempted like as we are, yet without sin.
Hebrews 5:8. Though he were a Son, yet learned he obedience by the things which he suffered;
Jesus was tempted, but he resisted. He then became perfect when he died on the cross and resurrected.
Luke 13:32. And he said unto them, Go ye, and tell that fox, Behold, I cast out devils, and I do cures to day and to morrow, and the third day I shall be perfected.
Hebrews 5:9. And being made perfect, he became the author of eternal salvation unto all them that obey him;
On that third day, Jesus was then made perfect by being the only human being never to sin.
Jesus' reward for resisting temptation and being the sacrifice for all of humanity is his place on the right hand of God and having all things in heaven and earth being made subject to him.
Matthew 28:18. And Jesus came and spake unto them, saying, All power is given unto me in heaven and in earth.
John 5:22. For the Father judgeth no man, but hath committed all judgment unto the Son:
Romans 1:3. Concerning his Son Jesus Christ our Lord, which was made of the seed of David according to the flesh; 4. And declared to be the Son of God with power, according to the spirit of holiness, by the resurrection from the dead: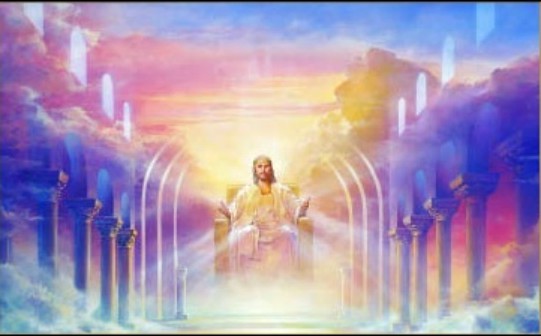 Ephesians 1:20. Which he wrought in Christ, when he raised him from the dead, and set him at his own right hand in the heavenly places, 21. Far above all principality, and power, and might, and dominion, and every name that is named, not only in this world, but also in that which is to come: 22. And hath put all things under his feet, and gave him to be the head over all things to the church,
Philippians 2:9. Wherefore God also hath highly exalted him, and given him a name which is above every name: 10. That at the name of Jesus every knee should bow, of things in heaven, and things in earth, and things under the earth; 11. And that every tongue should confess that Jesus Christ is Lord, to the glory of God the Father.
Hebrews 1:1. God, who at sundry times and in divers manners spake in time past unto the fathers by the prophets, 2. Hath in these last days spoken unto us by his Son, whom he hath appointed heir of all things, by whom also he made the worlds;
Hebrews 2:8. Thou has put all things in subjection under his feet. For in that he put all subjection under him, he left nothing that is not put under him. But now we see not yet all things put under him.
I Peter 3:22. Who is gone into heaven, and is on the right hand of God; angels and authorities and powers being made subject unto him.
Jesus was given all power over all things by God when he was resurrected. This is a common misconception that has always had control over everything by being God himself.
Jesus acknowledges many times that the Father is superior to him through out the gospels. And it is stated many times in the epistles.
Matthew 20:23. And he saith unto them, Ye shall drink indeed of my cup, and be baptized with the baptism that I am baptized with: but to sit on my right hand, and on my left, is not mine to give, but it shall be given to them for whom it is prepared of my Father.
Mark 10:17. And when he was gone forth into the way, there came one running, and kneeled to him, and asked him, Good Master, what shall I do that I may inherit eternal life? 18. And Jesus said unto him, Why callest thou me good? there is none good but one, that is, God.
Mark 13:32. But of that day and that hour knoweth no man, no, not the angels which are in heaven, neither the Son, but the Father.
Mark 14:36. And he said, Abba, Father, all things are possible unto thee; take away this cup from me: nevertheless not what I will, but what thou wilt.
John 7:16. Jesus answered them, and said, My doctrine is not mine, but his that sent me.
John 14:28. Ye have heard how I said unto you, I go away, and come again unto you. If ye loved me, ye would rejoice, because I said, I go unto the Father: for my Father is greater than I.
John 17:3. And this is life eternal, that they might know thee the only true God, and Jesus Christ, whom thou has sent.
John 20:17. Jesus saith unto her, Touch me not; for I am not yet ascended to my Father: but go to my brethren, and say unto them, I ascend unto my Father, and your Father; and to my God, and your God.
Romans 10:9. That if thou shalt confess with thy mouth the Lord Jesus, and shalt believe in thine heart that God hath raised him from the dead, thou shalt be saved.
I Corinthians 8:6. But to us there is but one God, the Father, of whom are all things, and we in him; and one Lord Jesus Christ, by whom are all things, and we by him.
There is an actual accusation being made against Jesus that he is claiming to be God.
John 5:18. Therefore the Jews sought the more to kill him, because he not only had broken the sabbath, but said also that God was his Father, making himself equal with God. 19. Then answered Jesus and said unto them, Verily, verily, I say unto you, The Son can do nothing of himself, but what he seeth the Father do: for what things soever he doeth, these also doeth the Son likewise.
Jesus clearly says "the Son can do nothing by himself".
The most disputed verse in all of the New Testament is John 1:1. Actually it is John 1:1-18, but for now we are going to look at just the first verse. Once we understand the first verse, we will then be able to grasp the context of the remaining verses.
John 1:1. In the beginning was the Word, and the Word was with God, and the Word was God.
The Greek word for Word is logos, which means thought or reason. The Word was God's creative self expression. It was his reason, purpose, and plan. God knew that he had to create a savior from the beginning, so the thought was with him. We as Christians have been predestinated by God from the beginning (Ephesians 1:5, 11). Can you say that we were with God from the beginning, No! Let's say a carpenter decides to build a house. He gets the materials and then creates it. Can you say that the house physically existed even before the carpenter hammers his first nail? Of course not. But the plan of the house was in his head from the very beginning. If Jesus was with God from the beginning, then the author would have used the word Jesus, not logos.
This war has been raging between Christians since the beginning. What people must understand is that Jesus was born as a man, lived as man, then died has a man. He then being the only man never to sin was given authority over all. This is based on facts straight out of the Bible. Hopefully everybody one day with come unto the knowledge of the truth.
---
References
One God & One Lord. By Mark H Graeser, John A. Lynn, and John W. Schoenheit
---
All Scripture Taken Form King James Version