Modern Day Weapons?
---
By Matthew Ficarelli
These verses of scripture probably didn't make any sense for hundreds of years, until recently. Within the past 50 years, we can now get a better understanding of what is actually being said. From the descriptions in each verse, it appears its talking about modern day weapons, ranging from missles to nuclear weapons.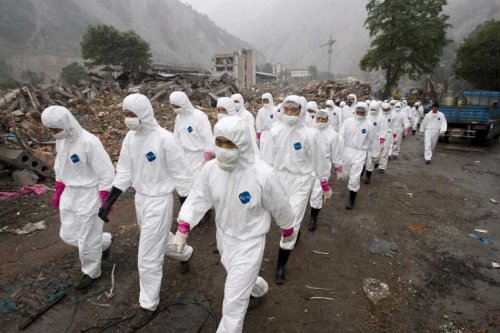 Ezekiel 39:12. And seven months shall the house of Israel be burying of them, that they may cleanse the land. 13. Yea, all the people of the land shall bury them; and it shall be to them a renown the day that I shall be glorified, saith the Lord God. 14. And they shall sever out men of continual employment, passing through the land to bury with the passengers those that remain upon the face of the earth, to cleanse it: after the end of seven months shall they search. 15. And the passengers that pass through the land, when any seeth a man's bone, then shall he set up a sign by it, till the buriers have buried it in the valley of Hamongog.
In this verse after the destruction, not only will it take Israel seven months to bury the dead, but they will hire a company to come and deal with it directly. The purpose of the company will be to "cleanse the land." And if anybody happens to see a body, that person will put up a marker so the company can come and dispose of it. This whole process will take seven months to accomplish. This is the same thing as if a nuclear bomb exploded. A containment crew would come in to clean up the mess in a particular way because of the possibility of exposure to nuclear material.
Zechariah 14:12. And this shall be the plague wherewith the Lord will smite all the people that have fought against Jerusalem; Their flesh shall consume away while they stand upon their feet, and their eyes shall consume away in their holes, and their tongue shall consume away in their mouth.
Hear is another example of what appears to be a nuclear, or a biological explosion. With a nuclear explosion, all of your skin would melt away. This would only be for a split second before the rest of you would disintegrate. With some biological weapons, your flesh would melt off of your skin as you stand.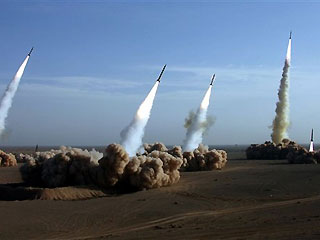 Jeremiah 50:9. For, lo, I will raise and cause to come up against Babylon an assembly of great nations from the north country: and they shall set themselves in array against her; from thence she shall be taken: their arrows shall be as of a mighty expert man; none shall return in vain.
The Hebrew word for arrow is khayts, which means a piercer. An arrow was common at the time, so they just put that because that's the only thing they knew of. The Hebrew word for expert is sakal, which means intelligent and wisely understood. So the assembly of great nations will have piercing objects that are very wise that will not return in vain. This fit's the description of the smart weapon technology that we have today.
---
References
Chuck Missler
---
All Scripture Taken Form King James Version