What Is A Christian?
---
By Matthew Ficarelli
The title Christian gets thrown around a lot, but most people don't know what it means. Most people believe that if they just believe there was a Jesus, then they will be fine, but that isn't the case. Webster's dictionary defines Christian as -
"One who professes belief in the teachings of Jesus Christ"
The name Christian means exactly what it says, someone who believes in Christ. But why then are there thousands of denominations of Christianity, when there is only one source of his teachings (For more see Faith Vs. Religion)? Why would anybody listen to any man who thinks they are the "head of the Church" except for Christ?
Ephesians 1:22. And hath put all things under his feet, and gave him to be the head over all things to the church,
Colossians 1:18. And he is the head of the body, the church: who is the beginning, the firstborn from the dead; that in all things he might have the preeminence.
Lets take a look at the one book that we are supposed to look at, the Bible. This is one rule that often gets overlooked. As Christians, we must study the Word of God.
II Timothy 2:15. Study to shew thyself approved unto God, a workman that needeth not to be ashamed, rightly dividing the word of truth.
We are blessed with the opportunity discover the truth for ourselves. We must study the Bible ourselves to know exactly what God wants for us.
Have you ever wondered why the Bible is split up into two big sections, the Old and the New Testament,? Webster's defines Testament as -
"A covenant between God and the human race"
The word Covenant is defined as -
"A written agreement or promise usually under seal between two or more parties especially for the performance of some action"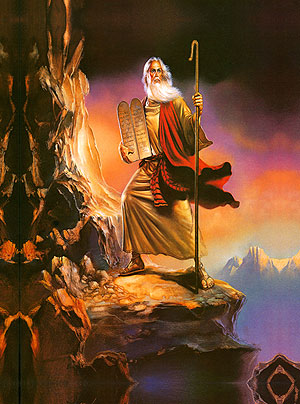 So the Old Testament is an agreement God had with Israel -
Exodus 19:3. And Moses went up unto God, and the Lord called unto him out of the mountain, saying, Thus shalt thou say to the house of Jacob, and tell the children of Israel; 4. Ye have seen what I did unto the Egyptians, and how I bare you on eagles' wings, and brought you unto myself. 5. Now therefore, if ye will obey my voice indeed, and keep my covenant, then ye shall be a peculiar treasure unto me above all people: for all the earth is mine:
Deuteronomy 29:1. These are the words of the covenant, which the Lord commanded Moses to make with the children of Israel in the land of Moab, beside the covenant which he made with them in Horeb.
But God has made the covenant with Israel old, and has given us a new one to follow -
Hebrews 8:12. For I will be merciful to their unrighteousness, and their sins and their iniquities will I remember no more. 13. In that he saith, A new covenant, he hath made the first old. Now that which decayeth and waxeth old is ready to vanish away.
Many people still think that we must follow everything in the Old Testament, but we don't. Everything in the Old Testament is written for our learning -
Romans 15:4. For whatsoever things were written aforetime were written for our learning, that we through patience and comfort of the scriptures might have hope. 5. Now the God of patience and consolation grant you to be likeminded one toward another according to Christ Jesus:
So the new covenant, or testament is we are to follow Jesus. We are to follow everything Jesus says because God is working through Jesus himself.
Jeremiah 31:31. Behold, the days come, saith the Lord, that I will make a new covenant with the house of Israel, and with the house of Judah: 32. Not according to the covenant that I made with their fathers in the day that I took them by the hand to bring them out of the land of Egypt; which my covenant they brake, although I was an husband unto them, saith the Lord: 33. But this shall be the covenant that I will make with the house of Israel; After those days, saith the Lord, I will put my law in their inward parts, and write it in their hearts; and will be their God, and they shall be my people. 34. And they shall teach no more every man his neighbour, and every man his brother, saying, Know the Lord: for they shall all know me, from the least of them unto the greatest of them, saith the Lord: for I will forgive their iniquity, and I will remember their sin no more.
Ephesians 2:15. Having abolished in his flesh the enmity, even the law of commandments contained in ordinances; for to make in himself of twain one new man, so making peace;
This is where it gets a little tricky, Jesus came to get to the root of the problem of man -
Matthew 5:17. Think not that I am come to destroy the law, or the prophets: I am not come to destroy, but to fulfil.
The word Greek word for fulfil is pleroo which means to complete. All of the feasts and the laws given to Israel where not finished and were meant to be completed by Jesus. He came to show us the meaning of it all-
Matthew 22:36. Master, which is the great commandment in the law? 37. Jesus said unto him, Thou shalt love the Lord thy God with all thy heart, and with all thy soul, and with all thy mind. 38. This is the first and great commandment. 39. And the second is like unto it, Thou shalt love thy neighbour as thyself. 40. On these two commandments hang all the law and the prophets.
If you love God would you make a statue and worship it? If you loved your neighbor would you covet what he has and then murder him for it? No you wouldn't.
Matthew 5:21. Ye have heard that it was said by them of old time, Thou shalt not kill; and whosoever shall kill shall be in danger of the judgment: 22. But I say unto you, That whosoever is angry with his brother without a cause shall be in danger of the judgment: and whosoever shall say to his brother, Raca, shall be in danger of the council: but whosoever shall say, Thou fool, shall be in danger of hell fire.
Matthew 5:27. Ye have heard that it was said by them of old time, Thou shalt not commit adultery: 28. But I say unto you, That whosoever looketh on a woman to lust after her hath committed adultery with her already in his heart.
Because Jesus showed us the true meaning of the laws, there has to be an effort on our part to understand in our hearts what he meant.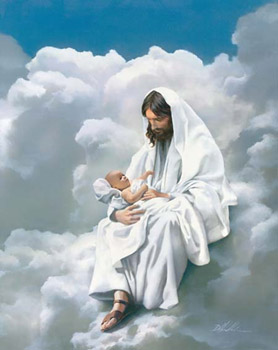 John 3:3. Jesus answered and said unto him, Verily, verily, I say unto thee, Except a man be born again, he cannot see the kingdom of God.
Your first reaction is probably how can one be "Born Again?" What Jesus is talking about is spiritual birth, not a physical one.
John 1:12. But as many as received him, to them gave he power to become the sons of God, even to them that believe on his name: 13. Which were born, not of blood, nor of the will of the flesh, nor of the will of man, but of God.
John 3:6. That which is born of the flesh is flesh; and that which is born of the Spirit is spirit.
Webster's defines born again as -
"Of, relating to, or being a usually Christian person who has made a renewed or confirmed commitment of faith especially after an intense religious experience"
Being born again is an intense renewing of your mind to follow and live like Jesus has. It is when you stop living for the flesh and live for God. It is when you realize the sinful ways that you used to follow and come unto the knowledge of the truth. You start to live a new life with Christ.
Romans 6:4. Therefore we are buried with him by baptism into death: that like as Christ was raised up from the dead by the glory of the Father, even so we also should walk in newness of life.
Romans 12:2. And be not conformed to this world: but be ye transformed by the renewing of your mind, that ye may prove what is that good, and acceptable, and perfect, will of God.
II Corinthians 5:17. Therefore if any man be in Christ, he is a new creature: old things are passed away; behold, all things are become new.
I Peter 1:22. Seeing ye have purified your souls in obeying the truth through the Spirit unto unfeigned love of the brethren, see that ye love one another with a pure heart fervently: 23. Being born again, not of corruptible seed, but of incorruptible, by the word of God, which liveth and abideth for ever.
Jesus said to enter into the Kingdom of Heaven, we must become as little children -
Matthew 18:3. And said, Verily I say unto you, Except ye be converted, and become as little children, ye shall not enter into the kingdom of heaven.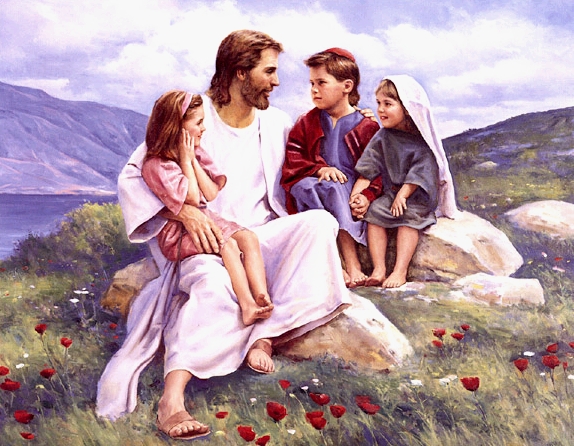 What he means by this is to have the belief of children. When we were all little, we believed in Santa Claus, the Easter Bunny, and even the Tooth Fairy. Jesus is not saying to believe everything you hear, but to believe in him with the same sense of belief as a child. Because as adults, we will let our pride and greed corrupt the rules that we should follow. If we trust in Jesus, he will lead us to eternal life.
If you are a Christian, you are one who believes in Christ and his teachings. But these commandments aren't Jesus' but God's -
John 7:16. Jesus answered them, and said, My doctrine is not mine, but his that sent me.
Jesus says that we must follow his word and keep it. We must live our lives just as he said to do.
Matthew 7:21. Not every one that saith unto me, Lord, Lord, shall enter into the kingdom of heaven; but he that doeth the will of my Father which is in heaven.
Matthew 7:24. Therefore whosoever heareth these sayings of mine, and doeth them, I will liken him unto a wise man, which built his house upon a rock: 25. And the rain descended, and the floods came, and the winds blew, and beat upon that house; and it fell not: for it was founded upon a rock.
Matthew 16:24. Then said Jesus unto his disciples, If any man will come after me, let him deny himself, and take up his cross, and follow me. 25. For whosoever will save his life shall lose it: and whosoever will lose his life for my sake shall find it. 26. For what is a man profited, if he shall gain the whole world, and lose his own soul? Or what shall a man give in exchange for his soul? 27. For the Son of man shall come in glory of his Father with his angels; and then he shall reward every man according to his works.
Luke 11:28. But he said, Yea rather, blessed are they that hear the word of God and keep it.
John 8:12. Then spake Jesus unto them, saying, I am the light of the world: he that followeth me shall not walk in darkness, but shall have the light of life.
John 14:6. Jesus said unto him, I am the way, the truth, and the light: no man cometh unto the Father but by me.
John 14:15. If ye love me, keep my commandments.
John 15:9. As the Father hath loved me, so have I loved you: continue ye in my love. 10. If ye keep my commandments, ye shall abide in my love; even as I have kept my Father's commandments, and abide in his love.
So now we know the difference between the Old Testament and the New Testament. But many people still believe that we must follow the Sabbath day. God gave the Sabbath has a sign between him and the people of Israel -
Ezekiel 20:12. Moreover also I gave them my sabbaths, to be a sign between me and them, that they might know that I [am the Lord that sanctify them.
But as a Christian, we don't have to follow the Sabbath day. It is was the day that God rested after creating the world. It was then given to the Jews as a day of rest. But now God has given us the greatest gift of all, Jesus. He is the ultimate rest for the soul -
Matthew 11:28. Come unto me, all ye that labour and are heavy laden, and I will give you rest. 29. Take my yoke upon you, and learn of me; for I am meek and lowly in heart: and ye shall find rest unto your souls. 30. For my yoke is easy, and my burden is light.
Hebrews 4:8. For if Jesus had given them rest, then would he not afterward have spoken of another day. 9. There remaineth therefore a rest to the people of God. 10. For he that is entered into his rest, he also hath ceased from his own works, as God did from his. 11. Let us labour therefore to enter into that rest, lest any man fall after the same example of unbelief.
The Greek word for rest in verse nine is sabbatismos, which Strongs Concordance describes as -
"Here the sabbath-keeping is the perpetual sabbath "rest" to be enjoyed uninterrupted by believers in their fellowship with the Father and the Son, in contrast to the weekly Sabbath under the Law. Because the Sabbath "rest" is the "rest" of God himself, its full fruition is yet future, though believers now enter into it. In whatever way they enter into divine "rest", that which they enjoy is involved in an dissoluable relation with God."
Once we give our lives to Jesus and God, we are now entering into the completed rest that God had intended for us.
Jesus' message is the very escense of not only him, but what God is, which is love. Everything that God is, he put into the flesh, which is Jesus.
Matthew 10:40. He that receiveth you receiveth me, and he that receiveth me receiveth him that sent me.
Colossians 1:15. Who is the image of the invisible God, the firstborn of every creature:
The core of Jesus' meassage is love. He taught to love everybody end everything, even your enemies -
Matthew 5:44. But I say unto you, Love your enemies, bless them that curse you, do good to them that hate you, and pray for them which despitefully use you, and persecute you;
Luke 6:35. But love ye your enemies, and do good, and lend, hoping for nothing again; and your reward shall be great, and ye shall be the children of the Highest: for he is kind unto the unthankful and to] the evil.
John 15:9. As the Father hath loved me, so have I loved you: continue ye in my love. 10. If ye keep my commandments, ye shall abide in my love; even as I have kept my Father's commandments, and abide in his love. 11. These things have I spoken unto you, that my joy might remain in you, and that your joy might be full. 12. This is my commandment, That ye love one another, as I have loved you.
Jesus left us with the perfect bluprint to live a life of peace. The sooner everybody realizes this, the sooner the body of Christ will become as one.
---
All Scripture Taken Form King James Version